DAIRY PRODUCTS FROM ARCADIA – PELOPONNESE
Arcadia (Greek: 

Ἀρκαδία

) is a region in the central Peloponnese. It takes its name from the mythological character Arcas, and in Greek mythology it was the home of the god Pan. In European Renaissance arts, Arcadia was celebrated as an unspoiled, harmonious wilderness; as such, it was referenced in popular culture.The modern regional unit of the same name more or less overlaps with the historical region, but is slightly larger.

Arcadia was gradually linked in a loose confederation that included all the Arcadian towns and was named League of the Arcadians. In the 7th century BC, it successfully faced the threat of Sparta and the Arcadians managed to maintain their independence. They participated in the Persian Wars alongside other Greeks by sending forces to Thermopylae and Plataea. During the Peloponnesian War Arcadia allied with Sparta and Corinth. In the following years, during the period of the Hegemony of Thebes, the Theban general Epaminondas reinforced the Arcadian federation in order to form a rival pole to the neighboring Sparta. Then he founded Megalopolis, which became its new capital. Over the next centuries Arcadia weakened. It initially was subjugated by the Macedonians and later the Arcadians joined the Achaean League.
CODE 00331:  Traditional feta cheese in brine from 100% Greek fresh pasteurized sheep and goat milk.
CODE 00332: Goat gruyere vacuum. Approximately 400 gr. Fine cheese from 100% Greek fresh pasteurized goat's milk.
CODE 00333: Goat cheese kofinaki with oil oregano.  Approx. 580 gr. From pasteurized goat's milk.
CODE 00334:  Fine whey cheese from 100% Greek fresh pasteurized goat's and sheep's milk.
CODE 00335:    MORFEAS OLIVE OIL  250ml

– Extra Virgin Olive Oil,with pharmaceutical properties, due to its world's highest polyphenols.
It contents over 1500 polyphenols mg/kg !
Product Description:
Our 100% Natural,MORFEAS OLIVE OIL 250ml  Organic Extra Virgin Olive Oil produced from the trees in our Estate, in the mountainous Arkadia Region of Greece. Polyphenols are micronutrients found in plants, with remarkable properties and benefits for the human body. MORFEAS OLIVE OIL Organic contains very high levels of Oleocanthal, Oleacein, Ligstroside Aglycon & Squalene.
Over the past years, we have refined our practices to greatly increase the level and profile of polyphenols in our olive oil. High phenolic olive oils require a lot of attention to produce as well specific harvest methods and milling procedures. We work in collaboration with Analysts, Researchers and perform countless trials within the mill to reach the result we have today.
With a Total Polyphenol content over 2500 mg/kg and over 8000 mg/100gr of Squalene MORFEAS OLIVE OIL   2019 contains one of the highest levels of Polyphenols and Squalene worldwide. Detailed analysis in the documentation below.
Ideal for daily cosumption.
Available in: 250ml bottle
Polyphenols Breakdown
The Extra Virgin Olive Oil we use in MORFEAS OLIVE OIL Organic has an acidity of under 0.5% with strong fruit, bitter and pungent flavors and aromas of greens and citrus. MORFEAS OLIVE OIL   contains some of the highest levels of specific phenols and total polyphenols wordwide every year.
Oleuropein and Oleocanthal are just two of the phenols found in significant numbers in quality olive oils with high levels of polyphenols and define how bitter and pungent an olive oil will be.
Polyphenols are generally measured in derivatives of Hydroxytyrosol and Tyrosol whilst the specific phenols of most interest are measured directly. There are over 3000 different phenols found in olive oil and current phenolics analysis measure less than 10 of those.
Tyrosol is a natural phenolic antioxidant present in a variety of natural sources. The principal source in the human diet is olive oil. As an antioxidant, tyrosol can protect cells against injury due to oxidation. This effect contributes significantly to the health benefits of olive oil and, more generally, the Mediterranean diet.
Hydroxytyrosol Derivatives
Hydroxytyrosol is a phenolic phytochemical with antioxidant properties. In nature, hydroxytyrosol is found in olive leaf and olive oil. Many other phenols break down into Hydroxytyrosol during oxidation (or aging) of Olive Oil.
Oleocanthal
Ligstroside Aglycon (monaldehyde form)
Oleuropein Aglycon (monaldehyde form)
Ligstroside Aglycon (dialdehyde form)
Oleuropein Aglycon (dialdehyde form)
New Research, clinical trials and papers are constantly being released as scientists identify and research the specific health benefits associated with certain phenols. So far research has primarily focused on Oleocanthal and Oleacein which are the two phenols only found in olive oil and show promising results in the areas of neurodegenerative diseases and cancers.
Brain Function 
Digestive System 
Heart Function 
Oxidative Stress 
Cancer   
REGION:
Th Morfeas Olive Oil is harvest  in the historical region of Arkadia, on the slopes of the mountainous valleys of the Alfeios River, as well as from the wild olive trees of Pylion mountains in central Greece. For over 300 years, wild olive trees have grown in harmony alongside beneficial herbs and aromatic plants, harvested in a timeless ritual and tended with meticulous care by our ancestors. A primary source of energy, income, and food, these wild olive trees earned profound respect, a true living legacy.
 Research shows EVOO can help with COVID-19 symptoms
Research shows EVOO ( extra virgin olive oil) can help with COVID-19 symptoms
April 6, 2021
It is common knowledge that nutritious foods help strengthen the immune system and that eating well leads to better health —especially during the pandemic. It is also known that extra virgin olive oil (EVOO) offers numerous health benefits, so it can play a vital role in a healthy diet. And while no food has been proven to prevent or treat COVID-19, some research suggests EVOO could help combat the novel coronavirus. Namely, studies such as "COVID-19: The Inflammation Link and the Role of Nutrition in Potential Mitigation" by Ioannis Zabetakis, Ronan Lordan, Catherine Norton, and Alexandros Tsoupras, show a strong connection between the consumption of EVOO and the potential of reducing symptoms and severity among COVID-19 patients.
Strategies for better health
As the pandemic rages on, an understanding of the pathomechanisms of COVID-19 may facilitate the development of targeted anti-inflammatory therapies. Equally, it is important to determine prophylactic interventions to prevent or lower the incidence of infection.
In light of the ongoing public health emergency, a review of pharmacological and nutritional strategies to support the optimization of immune health seems both timely and worthwhile. As is the overview of some of the anti-inflammatory therapies that are under investigation and intended to dampen the inflammatory response in severe COVID-19 infections and to outline dietary considerations implicated in immune function and respiratory illness outcomes, as they may influence patient outcomes in severe COVID-19 infections.
Dietary patterns and prevention
Nutritional status can have a significant impact on an individual's overall health, the reduction of noncummunicable diseases (NCDs) such as Covid, and a reduced susceptibility to developing infections. And whereas there is no single food or natural remedy that has been proven to prevent COVID-19 infections, which has been made clear by the World Health Organization, however, learning from previous research in relation to other viral infections, it is clear that nutritional status plays a significant role in patient outcomes.
According to the aforementioned study, "the presence of comorbidities in COVID-19 patients is currently a significant concern, which leads to the question of whether the nutritional status of these patients is a concern. Likewise, for those not affected, could following a diet characterized by anti-inflammatory properties potentially benefit or prevent severe infections in patients with comorbidities who contract COVID-19? In general, how important is it to follow a healthy diet currently for the general population?"
Due to its safety and ease of application, nutrition is well-placed to have a key role in the challenge of "keeping healthy people healthy". Moderate-quality evidence suggests that dietary patterns and individual nutrients can influence systemic markers of immune functions. Furthermore, Maintaining nutritional status at this time is significant, since the battle against COVID-19 will likely last longer than what was initially anticipated.
The role of the Mediterranean diet
Numerous studies have over and over again underlined the benefits of the Mediterranean diet, which promotes the high intake of a wide range of bioactive compounds and the relatively low intake of overly processed foods associated with negative health effects. Of course, it is the ideals of the Mediterranean diet that are important to follow, as a traditional Mediterranean diet is practically nonexistent these days, and countries of the Mediterranean follow a diet more closely related to the Western diet than that of their ancestors. Most national dietary guidelines follow similar principals to the Mediterranean diet by promoting the intake of fruit and vegetables, etc., in large quantities and advise that people limit their intake of processed food.
EVOO and the immune system
Fruit and vegetable intakes have been investigated for potential benefits in association with respiratory and inflammatory conditions due to their nutrient profile consisting of antioxidants, vitamins, minerals, and phytochemicals that include phenolic compounds that can exert antioxidant, anti-inflammatory, and other beneficial effects.
According to the latest research, along with other popular foods in the Mediterranean diet, extra virgin olive oil lowers cytokine levels, reducing symptoms and severity among COVID-19 patients. Indeed, polyphenols found in EVOO may also exhibit antiviral effects against the West Nile virus, Zika virus, and Dengue virus. A recent umbrella review of research on fruits, vegetables, and health provides support for the dietary recommendation "to consume four or more servings per day" in this context; however, excessive intakes may also displace other valuable foods, potentially leading to nutrient deficiencies of some vitamins or minerals not found in these foods. For example, zinc is more prevalent in meat or dairy products. Fruits and vegetables are also sources of fiber important for gut health.
COVID-19: The Inflammation Link and the Role of Nutrition in Potential Mitigation
1
Department of Biological Sciences, University of Limerick, Limerick V94 T9PX, Ireland
2
Health Research Institute, University of Limerick, Limerick V94 T9PX, Ireland
3
Institute for Translational Medicine and Therapeutics, Perelman School of Medicine, University of Pennsylvania, Philadelphia, PA 19104-5158, USA
4
Department of Physical Education and Sport Sciences, University of Limerick, Limerick V94 T9PX, Ireland
*
Author to whom correspondence should be addressed.
Nutrients 2020, 12(5), 1466;
Received: 22 April 2020 / Revised: 11 May 2020 / Accepted: 17 May 2020 / Published: 19 May 2020
(This article belongs to the Section
Figure 3. A representation of the inflammatory molecules involved in infection and how certain dietary components may interact with them. Included are the cytokines, growth factors, and other chemokines that promote the onset and progression of inflammatory manifestations, dysregulation of the immune system, and a diseased state due to the effects of several unmodifiable and modifiable risk factors. Targeted drug treatments and/or healthy lifestyle choices such as balanced diets and physical activity can counterbalance such inflammatory manifestations towards homeostasis.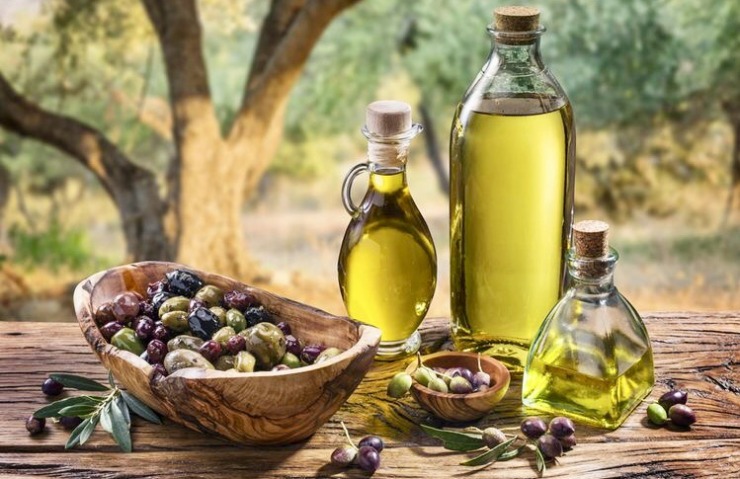 History of the Olive
The history of the olive begins 7000 years ago and is intertwined with the life of the people of the Mediterranean, their everyday life and their habits. Historians regard the Mediterranean region as the place where olive trees first appeared
Nowadays, the cultivation of olive trees is extremely widespread throughout the Mediterranean and the consumption of the fruit is a basic element of the Mediterranean diet. The olive tree loves the sea and sun of the Mediterranean, grows even on barren soil and is extremely resilient in drought conditions.
Young olive trees need the care of the growers and start giving fruit at the age of 7. At the age of 30-70 they reach their maturity. The expected life of an olive tree is 300 to 600 years, but all over the world, there are olive trees more than 1000 years old.
In the Mediterranean region, olive trees flower in late spring while the harvesting of olives starts at the end of September and ends in February, depending on the variety of the olive.
The Greeks were the first people to cultivate olive trees in the European area of the Mediterranean region. This tree has accompanied Greeks not only in times of prosperity but in times of deprivation as well. The fruit, the oil and the branches of olives trees were used in trade, nourished generation after generation helping people grow healthily, and also provided longevity and protection from several illnesses. To Greeks, the olive tree is a blessed, valuable gift of nature, connected with Greek history and culture. The olive tree fruit has been considered sacred since ancient times.
According to mythology, the olive tree was the sacred tree of the city of Athens due to the fact that during the dispute of the Gods as to who will be the patron of Athens, Athena, the Goddess of wisdom, offered the people of Athens an olive tree, which was deemed by the citizens of Athens as more valuable to their life than the horse that Poseidon, God of the sea, offered them. Ancient Greeks considered the olive tree a symbol of kindness and nobility, while even today olive branches symbolize peace. The olive has been blessed since ancient times, a symbol of knowledge, wisdom, abundance, health, strength and beauty.
The symbolic meaning of olive was present in every aspect of Greek life, ever since ancient times up until today. It is characteristic that since 776 B.C. the only prize awarded to the Olympic winners was the "kotinos", a wreath made of olive branch that symbolized peace and mandatory truce in ancient times, throughout the world, during the Olympic Games.
Even today, in agricultural regions of the country, when a child is born, an olive tree is planted. The olive tree and the child are to grow up together. When the child starts school at the age of 6, the olive tree is ready to give its first fruit. The olive tree will grow with the family, survive through time and will still be there for many generations to come, to remind us the continuity and the evolution of life.
Olive Processing & products
In Immediate Support  the works begin with the process of selecting the olives from the best olive groves of Greek countryside. Over the last years, the company co-operates permanently with professional olive growers and agronomists for the best result as far as the quality of the raw material is concerned.
 After the final quality control, if the raw material meets the standards and the requirements of the company, we proceed to purchasing it. We always select high quality raw material in order to have an excellent final product. The first stage after the purchase is the process of washing and cleaning the raw material to remove any foreign bodies (leaves, stems etc). Then, the olives are stored in large tanks suitable for food, where the process of fermentation starts. In the beginning, we check daily the course of the fermentation and when needed we proceed to the necessary corrective actions. The quality controls continue until the fermentation is complete and the product is ready.
In the next stage, the olives are taken out of the tanks and moved to the size selector so as to be classified accurately based on size. Right after the size selector process, the final quality selection takes place whereby olives that had some flaw during the fermentation are removed. After the quality selection the olives are ready to be packed in practical and very attractive packaging that ensures the quality of the olive up to the moment it will be consumed. Moreover, depending on the demand, we can proceed to further processing such as pitting, slicing or olive paste.
Olive Paste:     Olive paste in practical professional package with easy opening. (pasteurized)
Kalamon olives is an excellent variety of table olive. Kalamon olives are cultivated in Lakonia, Messinia and a significant stretch of the broader area of Agrinio. The fruit is collected ripe from November until Christmas. This variety is the most famous table olive in the world.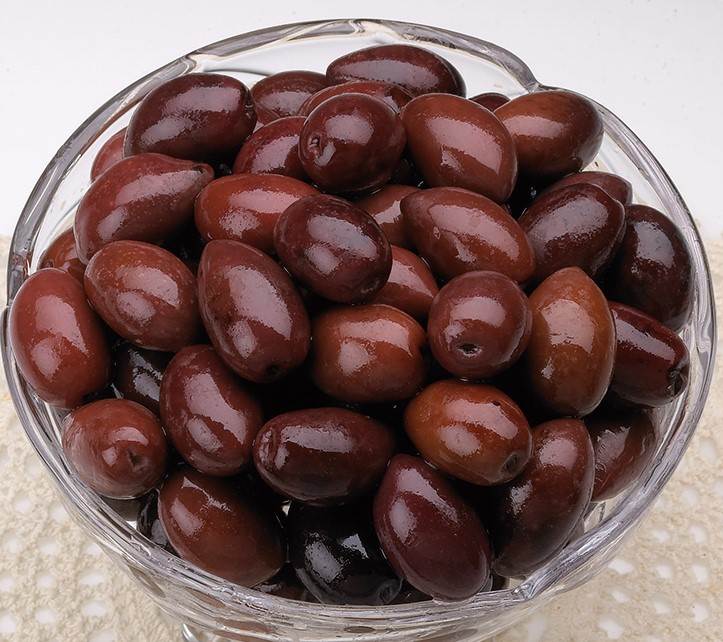 Cultivated almost exclusively in Chalkidiki. The fruit is early cut and with the proper processing is ready to eat shortly after harvesting. The fruit of Chalkidiki olives is usually large.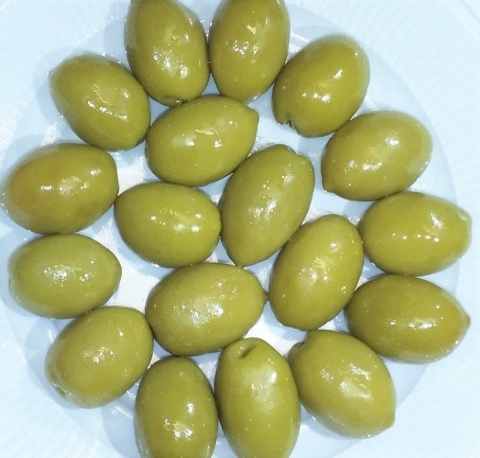 Dried Olive (Throuboelia)
Dried olives are cultivated in Aegean islands (Chios, Samos, Naxos), Crete and Thasos. During their maturation they lose their bitter flavor while still on the tree, without processing.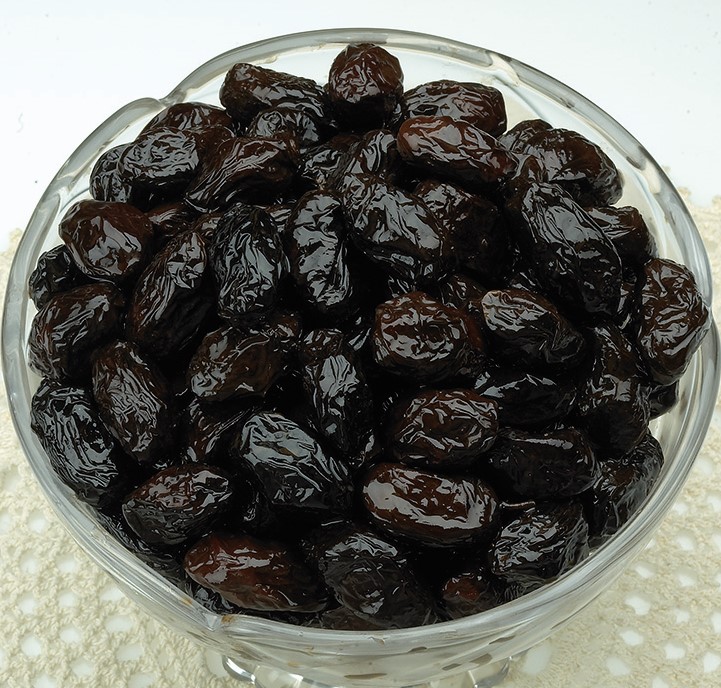 We find them in many Greek areas, mainly of Peloponnese and Roumeli. They are collected from the trees at the end of September until the middle of October. The fruit is early cut and with the proper processing is ready to eat shortly after harvesting. Cracked olives with lemon and fennel in olive oil are an excellent appetizer.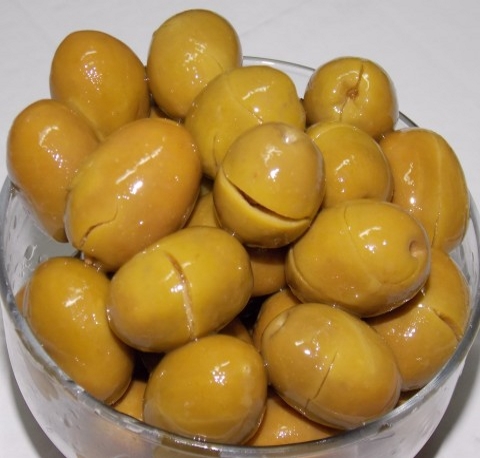 Cultivated mostly in the area of Argolida-Arcadia. This olive has the largest fruit, which often exceeds 20gr and is mainly known by the name Gaidouroelia (donkey olive).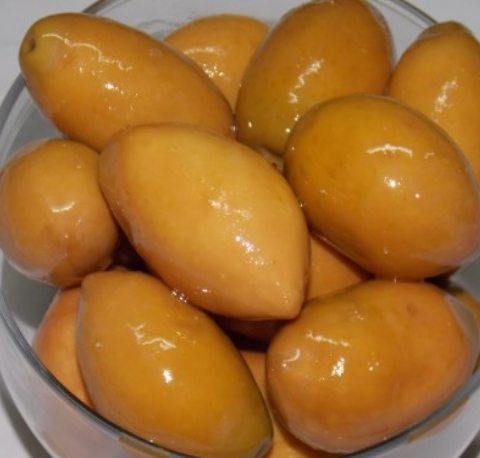 Processing
We can pack in bulk or we can pack your own brand name in vacuum.
New Products
Greek pitted olives ( snack ) in 3 distinct flavors with herbs .
Mixed pitted olives(green & kalamata) with herbs 80gr. net weight(c/box 15 pieces)
C/box net weight : 1,20 kg.
C/box gross weight : 1,50 kg.
Boxes per pallet : 198
Pieces per pallet : 2.970
Total net weight per pallet : 238 kg.
Total gross weight per pallet : 297 kg.
Height pallet : 1,6 m.
Green pitted olives with herbs 80 gr. net weight (c/box 15 pieces)
C/box net weight : 1,20 kg.
C/box gross weight : 1,50 kg.
Boxes per pallet : 198
Pieces per pallet : 2.970
Total net weight per pallet : 238 kg.
Total gross weight per pallet : 297 kg.
Height pallet : 1,6 m.
Kalamata variety pitted olives with herbs 80 gr. net weight ( c/box 15 pieces)
C/box net weight : 1,20 kg.
C/box gross weight : 1,50 kg.
Boxes per pallet : 198
Pieces per pallet : 2.970
Total net weight per pallet : 238 kg.
Total gross weight per pallet : 297 kg.
Height pallet : 1,6 m.
The ancient Greek shepherds high up in the mountains were on to something when they started to brew this unique plant to keep warm and protect them from getting sick. Read on to learn all about Greek mountain tea and its benefits.
What Is Greek Mountain Tea?
On Crete, the common name for Mountain Tea is malotira, and almost every region of Grece has its own name for the brew, such as Olympos tea and Parnassos tea, reflecting the name of the mountain where it grows. The most common English name other than Mountain Tea is Shepherd's Tea because Greek shepherds use the plants to make a brewed tea while tending their flocks high in the hills.
Mountain tea is a naturally caffeine-free herbal tea made from a single variety of the sideritis plant. Also known as "Shepherd's Tea" or "Greek Mountain Tea," it is referred to in Greece as Tsai tou vounou, translating directly to "Tea of the mountain." It is brewed using the dried flowers, leaves, and stems of the sideritis plant, found in the Mediterranean mountain regions of Greece, which is the largest consumer of mountain tea.
Sideritis, commonly known as ironwort, got its name from the Greek word for iron, sideros. In ancient times, the herb was used to heal wounds caused by iron weapons during battles.
The sideritis plant grows wild at high elevations over 3,200 feet and flourishes with the sun in partially-arid temperatures. Essentially, this means it doesn't need much soil, water, or care to survive. Because it is primarily found on the rockiest cliffs of the mountain sides, it is harvested in small sums. For centuries, Greek shepherds in the mountains have brewed sideritis for tea while tending to their sheep, giving it the nickname "Greek Shepherd's Tea."
What Does Mountain Tea Taste Like?
Sideritis is a flowering perennial therefore mountain tea has a floral, earthy, slightly sweet, and mild taste to it. Its taste is known to resemble a blend of mint, chamomile, and citrus.
Health Benefits of Mountain Tea
Mountain tea was used by the ancient Greeks as a healing herbal, medicinal drink. Hippocrates, the Greek philosopher known as the father of modern medicine, hailed its benefits for the immune and respiratory systems. In Greece today, mountain tea is consumed most often in the winter, to combat the common cold and flu.
Mountain tea contains high levels of antioxidants, polyphenols, and essential oils, including flavonoids. One study found that thanks to its powerful levels of antioxidants, mountain tea is as potent as green tea at promoting the body's antioxidant defenses and preventing oxidative stress. There continues to be a number of studies examining the health benefits of mountain tea, which has been shown to have the potential to boost immune response as an anti-inflammatory, aid in digestion, and even prevent osteoporosis.
Mountain Tea and Alzheimer's Disease
Researchers are also beginning to investigate mountain tea's potential as a weapon against cognitive decline. A recent study showed extracts from the sideritis plant can help prevent and treat Alzheimer's Disease and dementia. According to the Journal of Alzheimer's disease, consuming mountain tea has a positive impact on existing mental and cognitive conditions.
Side Effects of Mountain Tea
There are no known side effects or negative effects of mountain tea. Mountain tea is naturally caffeine-free so it can be enjoyed at any time of the day.
Mountain Tea and Pregnancy
While folk wisdom promotes the consumption of mountain tea during pregnancy, it is important to note that no herbal teas have been studied for their affects on pregnant women or a developing fetus. For this reason, all herbal teas should be consumed with caution by women who are pregnant or trying to conceive.
Ready to Get Healthy? Let's Make Tea
The tea is packaged as loose tea, not as tea bags. Unlike most teas, the flavor is enhanced by boiling the leaves and flowers. For a 10-ounce or 1.5 cup serving:
lace 12 ounces of water in a pan on the stove for a 10-ounce (1.5 cup) serving of tea. Some of the water will evaporate. Bring the water to boiling.
Add a handful of dried leaves and flowers to the pan for every 1.5 cups of water.
Cover the pan.
Allow the tea to boil for 3 to 5 minutes depending on your strength preference.
Remove the pan from the heat and let the tea steep for another 3 to 5 minutes.
Pour the tea mixture through a strainer directly into your cup
Drink plain or with honey or sugar.
Serving suggestion: Serve Mountain Tea at breakfast or before retiring at night with Kalamata olives, and crusty bread.
Rusk Greek bread –  " Paximadi"
The ancient word for what we call now paximadi is δίπυρος άρτος, literally meaning "twice-baked bread." It refers to bread that has been leavened and baked twice: once for the initial loaf, then sliced and baked again in a low temperature for a long period of time until all moisture is gone and the slices have hardened.
The preferred flour for paximadia, at least in the islands, was barley, as it thrives on dry land and has a growth cycle faster than wheat. Barley flour has much less gluten than wheat and is much darker in color, giving rusks their characteristic flavor and look. It is the preferred flour for Cretan paximadia too, which are probably the most famous of all rusks. Nowadays, however, Cretan rusks are mostly made with a mix of barley and whole wheat flour, which reflects the fact that barley has become quite expensive and that cutting the barley with whole wheat flour makes rusks easier to digest. Cretan rusks come under different names depending on their shape: dakos (thick oblong slices), kouloures (round ones like donuts without holes, sliced horizontally) and boukies (smaller bite-sized rusks, perfect for meze).
Rusks taste best when paired with hard or soft cheeses, olives, or cured meats or fish, but can also be eaten as an accompaniment to meals in place of bread. They can also play the role of croutons in leafy salads, thicken soups, soften beef patties (biftekia) or help create beautiful crusts for pan-fried meats. Their appeal lies not only in their versatility or in their complexity of flavor and texture, but also in their ability to soak up a lot of liquid.
The juices of the tomato together with the olive oil will soften the rusk just enough to make it easy to eat, without softening to the point that it becomes mushy and unpalatable.
CODE 00336:    100% pomegranate juice.

A 100% natural juice,
tasty and rich
in antioxidants.
Our juice is produced exclusively
from pomegranates of our own cultivation.
Rooby uses
cold press juicing method.
In packages
250 ml | 500 ml | 1 Lt
CODE 00337: Handmade  Wellness tea
Tonic drink with stevia, parnassus tea, ginseng, juniper root, peel and pomegranate juice.
MOUNTAIN TEA is tonic, detoxifying, strengthens the immune system without caffeine.
ARBARORIZA stimulates the nervous system is healing, diuretic, anti-diabetic. Relieves arthritis pain, lowers cholesterol.
JINSENG the root of life that strengthens memory.
Pomegranate peel rich in vitamin C, with ten times more antioxidants than juice, regulates insomnia helps treat stress.
In a package of 250 ml
 CODE 00338:  Handmade 

Relaxation tea


Herbal tea with stevia is a special decoction, containing honeysuckle, lavender and pomegranate peel.
HONEYHEEP is a plant of longevity, for the heart and circulatory system, it treats anxiety and nervousness.
LEVANTA is ideal for anxiety, insomnia, headaches, depression and sleep disorders.
Pomegranate peel rich in vitamin C, with ten times more antioxidants than juice, regulates insomnia helps with stress.
In a package of 250 ml
CODE  00339: Handmade

Pomegranate liqueur


Great color,
taste full,
smells like pomegranate but also something else,
more complex
since it is flavored
with peppercorns.
Enjoy the cool.
Garnish with pomegranate seeds.
In a package of 200 ml
CODE 00340 Handmade  Pomegranate vinegar
Pomegranate vinegar from 100% juice. Natural ripening, unfiltered, raw and without pasteurization. Contains the "mother" of vinegar.
Ideal for dressings, sauces, marinades.
betox suggestion: mix a teaspoon of this vinegar
in a glass of water with honey as a refreshing drink
to start your day.
In a package of 200 ml
CODE 00341: Handmade Petimezi
Pomegranate molasses
This dark concentrate is not reminiscent of pomegranates that we enjoy in autumn and rightly so since pomegranate molasses is made with a special variety of fruit that does not sweeten as it ripens.
Many western chefs call it "new balsamic". The sour-sweet taste of pomegranate molasses is really reminiscent of excellent caramelized balsamic vinegar with a sweet and fruity aftertaste.
In a package of 200 ml
A symbol of life and fertility, the pomegranate is a source of valuable nutrients that give health and well-being, as long as you know the best way to use it.
It is the fruit that Pluto gives to Persephone to "tie" it with Hades and the emblem of the Eleusinian Mysteries. The ancient Egyptians buried it with their dead, and it is one of the three "blessed fruits" of Buddhism. It was used as a decorative element in the temple of Solomon and in the mantles of the priests and is mentioned in the Song of Songs in the Old Testament.
In the Greek tradition, it is a symbol of fertility and eternity (although it is also associated with death), which is why in weddings and on New Year we break pomegranates. In fact, it has given its name to the Spanish city of Granada. Learn the secrets of the pomegranate and find out why so many cultures and so many religions have the pomegranate as a symbol of fertility and good luck.
One pomegranate a day…
Pomegranate is rich in vitamins (A, C, E, folic acid), iron, potassium and fiber, while it is low in calories. In fact, a pomegranate covers 40% of the amount of vitamin C and 25% of folic acid that an adult needs daily. It is rich in three different forms of antioxidants (tannins, anthocyanins, ellagic acid) and its total antioxidant capacity is estimated to be 2-3 times greater than that of red wine or green tea. In a recent study, pomegranate and various berry varieties were found to have the strongest antioxidant activity at the cellular level, compared to the other 25 fruits tested. Scientists at the University of California School of Medicine in the United States have found that pomegranate juice has a higher nutritional value than red wine, green tea, grape, orange and raspberry juice. Pomegranate juice is extremely absorbed by the body, stimulates the appetite, regulates digestive activity, increases hemoglobin and has diuretic, anti-inflammatory and antiseptic action.
Full of benefits
Thanks to its antimicrobial, anti-inflammatory, antitussive, astringent, healing and anti-diarrheal properties, pomegranate juice has been used for therapeutic purposes for centuries. Among other things, it prevents the oxidation of "bad" cholesterol (LDL), which is a serious risk factor for cardiovascular disease, and seems to reduce the levels of total and "bad" cholesterol in diabetic patients with hyperlipidemia.
It protects against brain damage, lowers blood pressure and there are indications that its long-term consumption improves the sexual function of men with erection problems. It is also considered to contribute to the prevention of skin, breast and prostate cancer, but also to slow down their development. It is used to treat chronic diarrhea, dysentery and bleeding, and to treat osteoarthritis. Finally, it cleanses and protects the skin, is used to treat burns and the herpes virus and reduces wrinkles and ulcers.
CODE 00342:   Figs from Evia island

Figs have been popular in the Mediterranean since ancient times; reported to have been first cultivated in Egypt and then spread first to Ancient Greece.
Nowadays Greece is one of the largest producers of figs worldwide, thanks to its great climate and sun.
Figs are rich in calcium, potassium (a mineral that helps to control high blood pressure), dietary fibre and magnesium.
It is among the richest in fibre fruits and considered a great antioxidant, helping to fight many illnesses and diseases.
Figs were an important part of the basic diet of the ancient Greeks, and like olives and wine, a symbol of peace and prosperity.
Benefits of both fresh & dried figs:
Figs have a similar function in the body as cereal; their high fibre content promotes healthy bowel function and their high vitamin B content is essential for intestinal regulation.
The mineral content of figs closely resembles that of human milk and gram for gram they contain twice as much calcium as cows milk.
Dried figs are rich in fibre, potassium, calcium, magnesium and iron.
They are a good source of potassium which is important in helping to regulate blood pressure.
The soluble fibre, called pectin, in figs may help reduce blood cholesterol.
Figs are loaded in vitamins A, B1 and B2 as well as phosphorus, manganese, sodium and chlorine;
Due to the high levels of fibre. Figs are amongst the most highly alkaline foods, making them useful in balancing the pH levels of the body.
They are high in natural and simple sugars and are a good alternative to sugar.
CODE 00343:  Heather Honey from Ikaria island.
Ikaria, the Island Where People Forget to Die !
On the Greek island of Ikaria, life is sweet… and very, very long. So what is the locals' secret?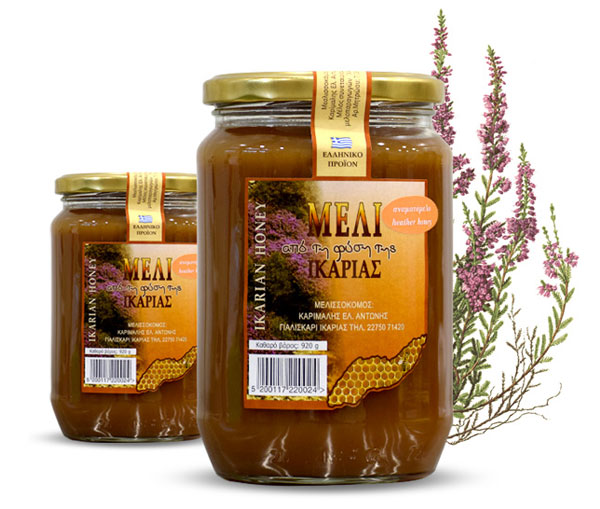 Longevity
Ikarians are running at 100! They forget to die! So, the phenomenon of longevity is noted in Ikaria. In recent years,   people bring up the longevity of Ikarians. International scientists, have turned their strong interest to learn, what it is that manages to make Ikarians not only centenarians, but also to have very good physical condition and health even at a hundred years old! There are many reports of international networks and Media worldwide, over the life of the inhabitants of this small Greek island.
Greek rye honey has won international quality awards in competitions such as: iTQi (international Taste and Quality Institute) in Brussels, Great Taste Awards in London, BIOL Miel in Italy for organic honey.
Autumn Heather Honey – Erica Manipuliflora
Also known as Erica verticillata or Autumn Heather. It blooms from August to October.
A dark strongly flavored honey, mildly sweet and high in trace minerals. It crystallizes within 2 to 3 months of harvest, the color is lighter with crystallization.
In Greece it is sold as a health food for childhood fevers, hay fever of heather pollen and for adult prostate infection.
Locations: It is found in the Greece, Turkey and N. Africa.
Translations: Greek: reikomelo
CODE 00344: Magical  Pistachio Peanuts from Aegina Island 
Aegina is an exquisite and much-frequented island of Argosaronikos Gulf, which is just 17.5 nautical miles far away from Piraeus Port. Aegina, known as "island of peanuts", is the second biggest island in Argosaronikos after Salamina. Aegina is particularly scenic, with picturesque landscapes and many sights.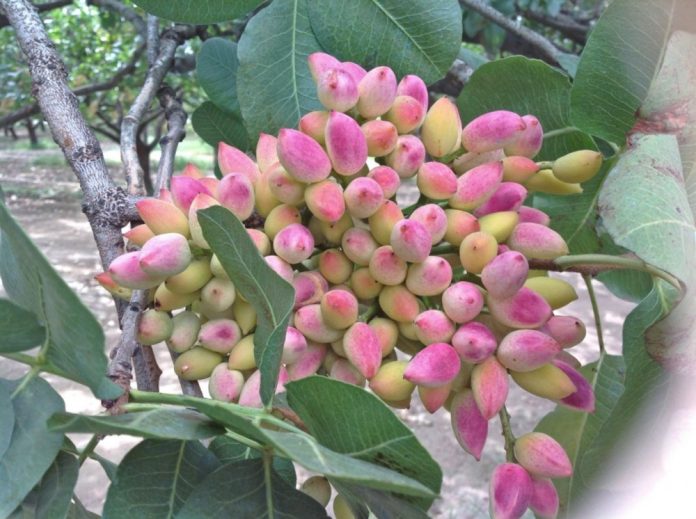 Heart health
Peanuts have been shown to lower "bad" cholesterol (LDL) and increase good cholesterol (HDL) after a short period of regular consumption. Their high content of antioxidants, such as vitamins A and E, fight inflammation, protect blood vessels and reduce the risk of heart disease.
Helps treat diabetes
Peanuts can help prevent type 2 diabetes. Just one cup of pistachios contains 60% of the recommended daily allowance of phosphorus. In addition to breaking down proteins into amino acids, phosphorus also helps the body tolerate glucose.
Healthy blood
Peanuts are an incredibly rich source of vitamin B6, which is essential for the production of hemoglobin, the protein that is responsible for transporting oxygen through the blood to cells. This results in much better oxygenation of the cells.
Nervous system
Vitamin B6 also plays an important role in the functioning of the nervous system. There are some molecules that carry messages from the nerves to the brain. These are called amines and require amino acids to grow properly. Amino acids in turn rely on vitamin B6 to create them. In addition, vitamin B6 plays a critical role in the formation of myelin, the insulating film around nerve fibers. In addition, vitamin B6 contributes to the synthesis of serotonin, melatonin, epinephrine and γ-aminobutyric acid (GABA), an amino acid that "directs" the transmission of nerve impulses throughout the body.
MODERN GREEK NUTRITION
CODE 00345:  Greek Tomato products
In bulk and under P.L.
Five pillars of quality
Environment
Social responsibility
Sustainability
Product quality
Safety and Traceability
200g Glass Jar  –  1/2kg Can  –  1kg Can  – 5kg (A12) can  –  20lt Aseptic Bag in Box – 20lt Aseptic Bag in Box  –  220lt Metal Drum  –  1300lt IBC
CODE 00345  organic & conventional  Kiwi-Hayward Variety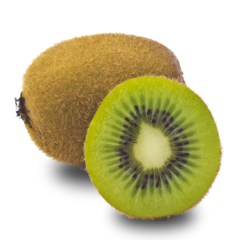 The kiwifruit is a little fruit holding great surprises. The most common species of kiwifruit is Actinidia deliciosa, commonly known as Hayward kiwi. Inside of this small, oval-shaped fruit featuring brown fuzzy skin resides a brilliant, semi-translucent emerald green flesh speckled with a few concentrically arranged white veins and small black seeds. Its flesh is almost creamy in consistency with an invigorating taste,with its own unique sweet flavor.
Kiwi is an exotic fruit rich in nutrients and phytochemicals that improve overall health.     A kiwi gives about 60 calories, 15g. carbohydrates. 3gr. fiber, 9gr. sugars and 1.2gr. protein.      It is also rich in nutrients such as vitamin C, calcium, iron, vitamin B6, magnesium, potassium, vitamin K, copper, vitamin E, folic acid and manganese.
CODE 00346     Yogurt  ice -cream
Frozen yogurt of velvet texture in 150 different flavors, made of fresh drained yogurt, prepared according to traditional recipes similar to those of the daily ice-cream.